Sahara Reporters threw an atomic bomb into the Nigeria media space when it informed us that Senator Dino Melaye didn't graduate nor obtain certificate from Ahmadu Bello University, Zaria , Harvard University and the London School of Economics and Political Science.
It was also revealed that grammar spittling Senator's degree at Harvard was a mere seminar on leadership and the London School of Economics and Political Science have denied knowledge of an alumnus named Daniel Jonah Melaye or is it Daniel Dino Melaye, who even knows the moniker he goes by?
We are expecting sense-nator abi saint-nator Dino Melaye to once again tear his agbada and walk through Osbourne road in Ikoyi to show his detractors that he can't be moved by such a scandal.
Here are some wonders from this incredible scandal;
1. Dino Melaye posted a picture online with the caption "ABU 99 set at NYSC camp in KD, Me in blue short", the interpretation of this is he graduated 1999 but his Vice Chancellor had told the Senate Ethics Committee he graduated in 2000. How could he had participated in the NYSC scheme in 1999 when he graduate in 2000. Who do we believe now? 
2. How was Dino admitted into the university without 5 'O' level credits? Did he tender a result different from this one that surfaced online?, Shouldn't he have obtained a credit than P8 in Geography to study geography?
3. Why was Dino Melaye's name given as 'Daniel Jonah Melaye' in his statement of results and 'Melaiye Daniel Jonah' in his Senior Secondary Certificate with which he was admitted? Why is his certificate not yet issued after 17 years after graduation? Even his exam officer disagrees with the V.C, he stated that Dino didn't passed the required courses to have graduated.
Yesterday, Senator Melaye released a video of him singing a song, mocking his detractors, as if that wasn't enough, today Senator Melaye showed up at the Senate Plenary Session today dressed in an academic gown.
Well, we would said Dino had won the battle until Twitter user @saviorluv on his handle said; " This is my discharge Cert. I actually was in d same set and camp wit Dino. Tho I didn't know him but atleast dis can throw more light…".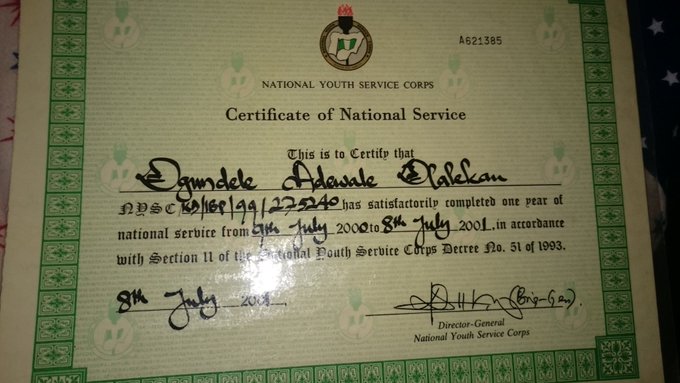 He tweeted further; "here's no disparity at all, my school graduating set was 99 but we were dispatched for service in July 2000"
"there are lots of issues, strikes and ethnic fighting in d north, this caused the delay between call up in 1999 and mobilization in 2000"
"I think the first set of batching of corpers started in 1999/2000. Cos when I arrived in Zaria after camp met a serving batch".
Nigerians have reacted to the NYSC certificate Senator Dino Melaye posted in twitter this morning. Some said the certificate was doctored, while some pointed out what they think were mistakes on the certificate.
So it can rightly stated that Dino did his NYSC in 1999, graduated in 2000, what a wawu!. So as it stands if you have F9 in English and F9 in Mathematics, just apply to ABU you may go for NYSC before you graduate. Dino Melaye is a living testimony.
Let's keep our fingers crossed as this incredible drama play outs…See you at the other side!